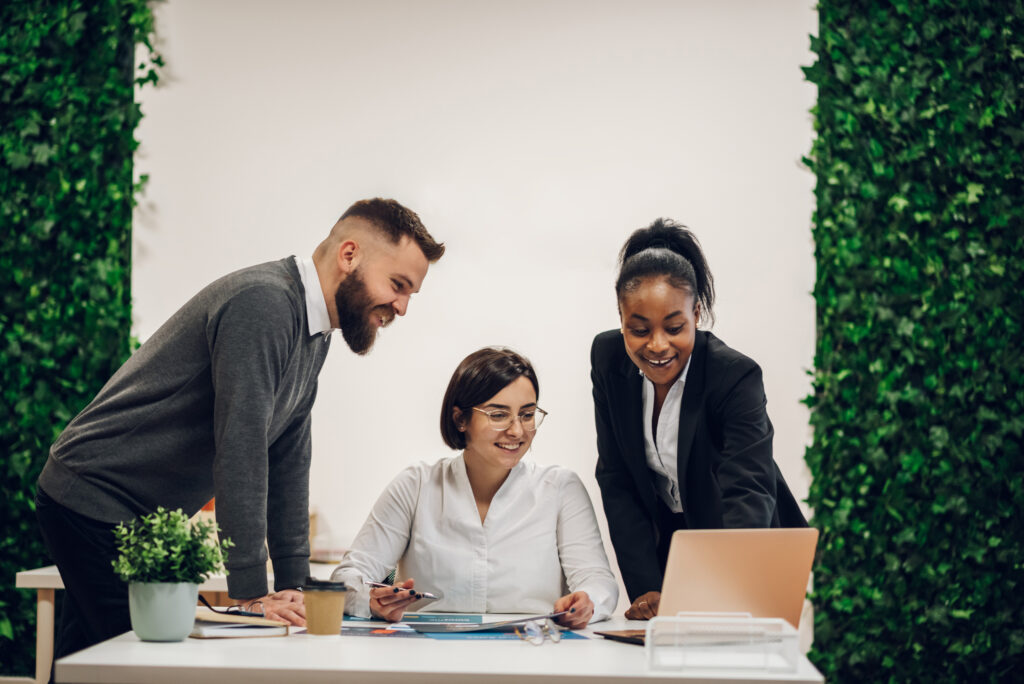 "I can't tell you how much I love working here – this is the most amazing place to be!"
Have you ever heard your staff, teachers, or administrators make a comment like this? Would you like to?
If so, your school or district might benefit from professional learning with a focus on building school culture. A strong culture attracts and retains high quality staff and serves as the foundation for educating highly engaged students.
In this blog post, Evan Grasser, Team Building Consultant and Professional Learning Educator at 806 Technologies, shares her 8 tips to help you reflect on where your organization is today and develop ideas to create a healthy culture across your system.
1. Live your mission and vision.
Almost every school district and campus has a mission and vision statement. It's one thing to post the statement on the wall, but it's another thing to live it.
As a leader, your role is critical in leading and establishing the direction of your campus or district and ensuring that everyone in your organization understands it. 
How will your leadership impact your culture and organization? What steps will you take to improve it? As employees see you living your mission and vision, daily momentum will build toward reaching your goals.
2. Capture the brilliance of 5 generations.
Today the workplace can have up to 5 generations working together. Seizing the opportunity to build on the strengths and unique perspectives of each group will improve workplace diversity, and help develop the capacity and capabilities of everyone on your team.
From the Silent Generation to the Boomers to Generation X, Millennials, and finally Generation Z, look for strategic opportunities to access the brilliance of each generation to propel forward.
To learn more about the differences between generations and how to relate to each, check out this blog post from Jason Dorsey, a generational behavior researcher and speaker.
3. Assume nothing and teach everything.
New York Times bestselling author, professor, and lecturer, Brené Brown, offers some helpful advice to lessen workplace stress. In her book, Dare to Lead, she says, "Clear is kind."
If the message seems a bit simple, this is intentional. Clear expectations, processes, and procedures help guide systems to work smoothly. Unclear expectations, processes, and procedures have the opposite effect.
Don't assume that everyone already understands the message you want to convey as a school, campus, or district. Clearly and strategically rolling out programs, teaching staff, and explaining intended outcomes will improve results and bring momentum to your system. When expectations are clear and concise, employees will rise to meet them.
Clearly defining, articulating, and living the behaviors you expect across your organization will increase the chances that you will begin to see the desired behaviors in your workplace. If you expect high levels of customer service in all interactions, then define, teach, model, and celebrate customer service throughout your system. For example: when talking with students, colleagues, parents, and community members, always communicate in a professional, kind, and transparent manner.
5. Set clear expectations.
Nothing is more frustrating than the "ready, fire, aim" approach. When employees know your expectations, they will work harder to meet them. Before communicating expectations to employees, consider multiple perspectives, and get input from others. Doing so will help to alleviate misconceptions and misunderstandings.
6. Model, model, and model some more.
Leaders are under the microscope. Fortunately, most look amazing – even up close! Most leaders rise up to their positions by serving others, achieving excellence, and looking for ways to make a positive impact.
As a leader, remember that others are always watching you and looking to see if your words and actions run on parallel paths. As you move to build a robust and healthy school culture, modeling the actions you wish to see can be your greatest asset.
When a giver presents a package that's beautifully wrapped with a contrasting ribbon and topped with a gorgeous bow, excitement enters the room. Everyone celebrates the beauty of the box – including the giver and the receiver. 
While celebrations may seem trivial, they are critical for change. As educators, we tend to get busy in our daily work and don't take the time to celebrate successes as much as we should.
Doing so can be motivating and rewarding to members of your team. Are you engaging students in higher levels of learning? Are students showing behavioral improvements? Are team members collaborating?
Take time to celebrate these wins authentically. As you move forward toward your vision each day, cheering on your colleagues will make the journey more rewarding for everyone.
8. Learn as a team with professional learning.
As an education leader, you spend a lot of time thinking about how students are impacted by the work of your district, campus, or school. But what about your staff?
In order to inspire a lifelong love of learning, educators need to love where they work and find joy in their school culture. Like students, educators also benefit from learning as a team, sharing data and insights, and working together to achieve goals.
We are here for you! Our team of certified educators at 806 Technologies can help you through every step of the way with our professional learning options.
806 Technologies is made up of experienced certified educators who have walked in your shoes.
We will partner with you to provide job-embedded support, mentoring, and training. Access our team of certified educators who can provide you with planning tools, advice, resources, and more.
Ready to build your school culture? Contact us today and let us help you achieve workplace excellence!