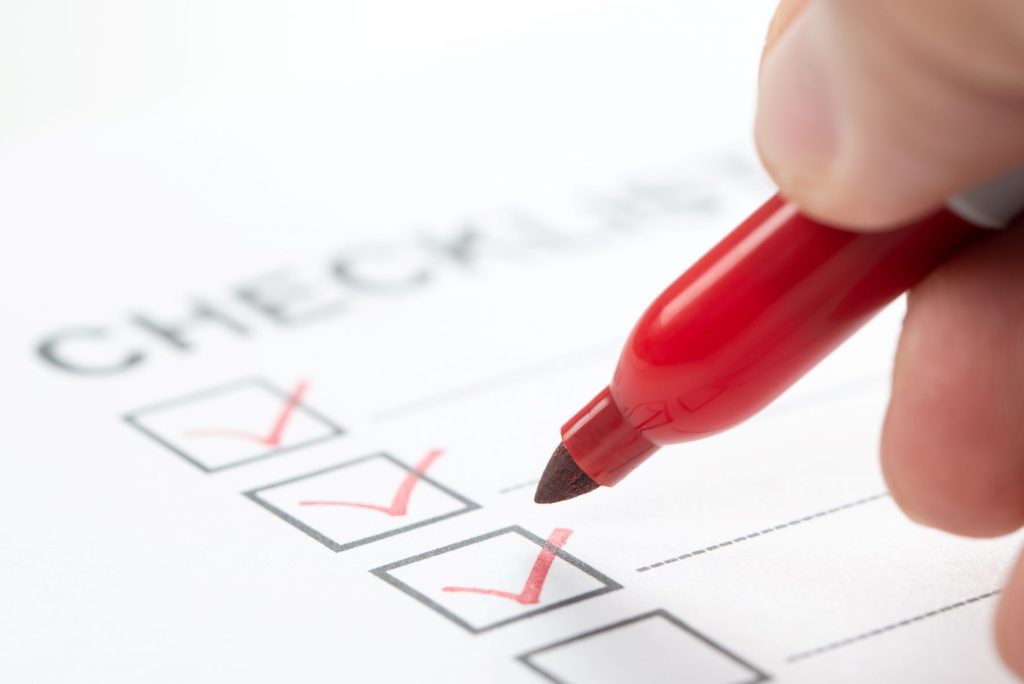 Congratulations! You're retiring from a State and Federal Programs position and preparing to move on to the next phase in your life. If retirement is on the horizon, you may be looking forward to travel, relaxation, or spending more time with your family – but before you close your office door, there are just a few more things to do.
This retirement checklist will help to ensure a smooth transition as you exit your role and prepare the next person entering your position for success.
1. Set your retirement date.
Select the date you wish to retire and be sure to let your supervisor and your HR department know.
2. Create a calendar of tasks for the person coming in behind you.
Break out tasks into three categories:
State tasks

Federal tasks

Local tasks
Note the key deadlines for each task. This will make it easier for your replacement to plan for the year ahead, meet deadlines, and ensure compliance.
3. Meet with each department you interact with regularly.
This may include a:
Curriculum department
Fiscal department
HR department
IT department
Any other department you work with on a regular basis
Let each department know your retirement date, and ensure all your work with them is completed before you leave. Try not to leave anything hanging for the next person filling your role, if there is any way you can get it done.
By wrapping up loose ends, you will give your replacement a fresh start with fewer complications. Also, be sure to ask each department if there is any important information they would like you to pass on to your replacement.
4. Work with your support staff to develop a transition plan.
Administrative assistants are essential to the everyday work of district offices. Their diligence and organizational skills keep departments moving forward – and their experience keeps everything running smoothly.
Work with your administrative staff to develop a transition plan, ensuring they are comfortable and their needs are taken into consideration. Experienced staff members may know exactly how to handle a transition, whereas newer staff members may not have witnessed much turnover. Talk with them about how to continue their work until your replacement begins, and be sure to answer any questions they may have.
If there is a gap between your retirement date and your replacement's start date, make sure they know who to report to in the interim.
5. Connect with the IT department to make sure your email inbox will be accessible to your replacement upon your departure.
An ounce of prevention is worth a pound of cure – and this extra step could prevent a lot of headaches. Typically, when a staff member leaves a school district, their email address is shut down immediately, by default. This can cause major problems for school district administrators.
New administrators need access to current and historic communications from their predecessors, especially at the state or district level. In some cases, the only documentation for an important agreement may be contained within email, or an administrator may need to reference a previous conversation in order to understand a current situation.
Fortunately, it's easy to correct this problem by reaching out to your IT department and asking them to make sure your email will be available to your replacement. In the event that your replacement will be coming from another district, be sure the IT department is prepared to set up their email address and any access to web-based software they may need.
6. Inform software vendors of your retirement date and replacement, if known.
Be sure to contact us at 806 Technologies so we may reach out to your successor and be sure they have all the support they need. We will be happy to answer any questions they may have, so that they are successful with our products.
Let your other software vendors know about your transition as well, to ensure your replacement has access and contact information from day one.
7. Connect with contacts at the State Department of Education.
If you have any contacts at your State Department of Education, inform them of your retirement date and replacement. Set up a transition meeting with your replacement to help that person move smoothly into their relationship with your contact person.
Though it may seem like a small gesture, your initial introduction can make all the difference in helping them get off the ground and feel comfortable asking questions at the state level.
8. Prepare your workspace.
It may seem obvious, but this is an important step. Think of it as you're inviting a guest into your home – you want to put your best foot forward.
Clean out old files and cabinets. Take extra care to remove and protect any documentation covered by FERPA. Ensure cabinets lock (if they contain sensitive information), and provide your replacement with keys.
Remove personal property.
Restock basic supplies.
Notify appropriate parties of any maintenance needed. Is there a loose ceiling tile that could fall? A leaky sink? Light bulbs that need replacing? A cabinet drawer that won't open? Getting maintenance issues repaired before you leave will create a warmer welcome.
Write a welcome note. There is nothing nicer than walking into a new office surrounded by people you don't know, then finding a kind note waiting for you at your desk. You don't have to write a long message – just a simple "welcome, good luck" and "contact me with any questions" is all that's needed.
9. Set up a transition meeting(s) with your replacement.
If your replacement is known, spend some time meeting with them. Take the opportunity to introduce them to your support staff, share important information, and answer any questions they may have. This will make it easier to walk in on the first day feeling prepared.
10. Don't know your replacement? Leave a letter.
If your replacement is not known, write a letter or a note to touch on what you would have mentioned in a face-to-face meeting. You may even wish to create a binder, either electronic or physical, that can serve as a reference book for critical pieces of information.
This does not have to be a long or complex task. You might simply spend a few minutes thinking about what you didn't know when you came into the job, and ask yourself, "What could someone have done for me to help me feel more comfortable and successful within the first few months of the job?"
"When I was a Girl Scout, I was taught to always try to leave any place you have been better than when you found it. This mindset has stayed with me throughout my life - and it makes sense when you're leaving a professional position, too. Why not make the entry into your job, for the next person, even better than you found it when you first arrived?"
You've earned it. Now, enjoy it!
You've worked hard to reach retirement, and at 806 Technologies, we want to be among the first to congratulate you. As a State or Federal Programs Administrator, you have a heart for quality education, and you've dedicated your career to giving your best for your students. Taking the extra steps above will help to preserve your legacy and the hard work you've done, in addition to preparing the next person in your role for success.

Want to download this checklist?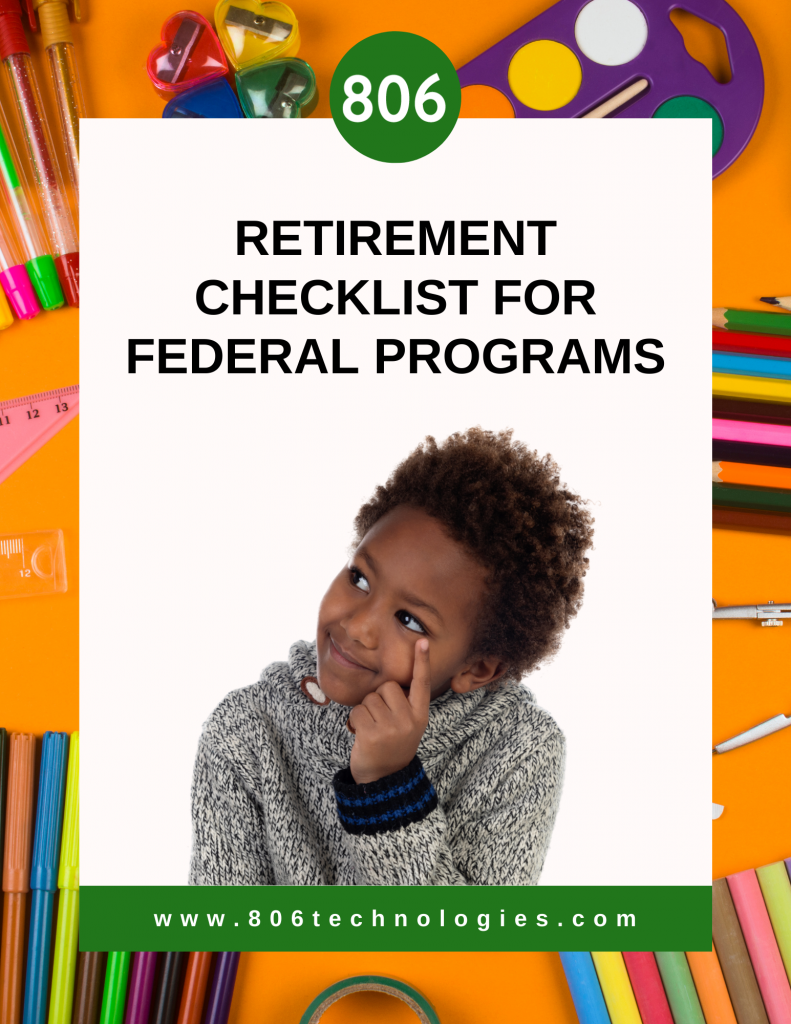 We are here for you! Our team of certified educators at 806 Technologies can help you through every step of the way with our web-based Title1Crate and Plan4Learning tools.
Our mission is to create a world of innovative schools, and our software programs help free up school leaders' time to allow for that innovation.
Title1Crate
Title1Crate is a secure, web-based compliance document management system for collecting, organizing, and validating Title I documentation. It eliminates the need for physical files, crates of paperwork and filling up local servers.
All LEA documentation is in one central, cloud-based location – easily accessible when needed and completely secure and protected for years. The organizational structure, number and type of required files, notifications, timelines, and users are all completely customizable. It is straight-forward and easy to use.
Title1Crate is the best way to be compliant, ready for audits and to monitor expenditures to ensure the very best use of federal dollars.
Plan4Learning
Plan4Learning is a web-based software program that enables campuses and districts to develop improvement plans that comply with state and federal laws and create measurable advancements in student performance.  
Plan4Learning provides a multi-user platform that supports effective processes to implement, monitor and adjust the actions schools take to improve student achievement. Plan4Learning's format helps stop planning as an act of compliance and utilize planning as an essential component for creating and growing high-performing schools.
Ready to close out the school year with greater ease and efficiency? Contact us today and let us help you wrap up the school year!